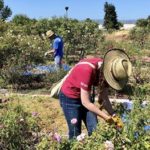 Website Guadalupe River Park Conservancy
We are looking for volunteers who are able to help at our Heritage Rose Garden on a consistent basis. Ideally, at least once a week, if you are able to make it twice a week all the better!
Please come prepared with clothes you can get dirty. Long pants, closed toed shoes, water bottles and sun protection (hat and sunscreen) are a must. We will be meeting at the Heritage Rose Garden shed.
YOU MUST BRING GLOVES appropriate for working in a rose garden. If you have hand pruners/loppers, please bring those as well. Limited hand tools available for use.
FACE MASKS ARE REQUIRED and to be worn at all times while volunteering. Social distancing will be observed as well as other protocols as advised by County Public Health recommendations.
Parking can be found at the Seymour parking lot at the intersection of Seymour & Walnut, or 412 Seymour St., San Jose, CA.
Minimum Age: 14
Minors 15 and under must have a parent or guardian actively volunteer with them throughout their workday. Age 16-17 must have parental consent to participate.