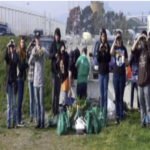 Website Golden Gate Audubon Society
Over the past 150 years, more than 90% of San Francisco Bay's wetlands have been destroyed by development. But thanks to Golden Gate Audubon volunteers and others, wetlands are now being restored throughout the Bay Area. And we'd like to you to join our team of habitat restoration volunteers!
Each year, Golden Gate Audubon organizes wetlands habitat restoration workdays at Pier 94, an abandoned industrial area along San Francisco's southern waterfront. We pick up trash, remove invasive plants, and plant native species.
Upcoming workdays:
Sat, Aug 1, 2020 from 9:30am-12:30pm
Sat, Sept 5, 2020 from 9:30am-12:30pm
Directions to Pier 94 worksite: From the intersection of Third Street and Cesar Chavez in San Francisco, go south 0.2 miles to the stoplight. Turn LEFT onto Cargo Way, then make an immediate LEFT onto Amador. Continue past the Grain Elevators all the way to the end (0.4 miles). Turn RIGHT onto the graded road at the temporary office on your right, and immediately bear LEFT toward the chain link fence set in a concrete foundation. Drive parallel to the fence toward the Bay. Park and then walk toward the Bay along the path that separates the project's tidal pools. There's a sign where you can park indicating the Pier 94 restoration project.
Please note heavy rains cancels these events.