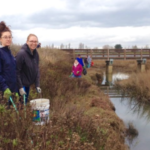 Website Golden Gate Audubon Society
General Responsibilities: Attend events in San Francisco, Oakland, Berkeley or nearby Provide information about Golden Gate Audubon to the public. Training and materials are available at the Golden Gate Audubon office in Berkeley.
Duties and Responsibilities: Work with a volunteer to table at Bay Area events. Engage the public.
Skills Needed: Willing to learn about Golden Gate Audubon Able to stand or sit for 2-4 hours at events Able to go to the Golden Gate Audubon office in Berkeley to pick up materials. Able to carry or use rolling cart to move 20lb of materials Ability to work well with volunteer colleagues. Willing to speak with the public (adults and kids) about birds and Golden Gate Audubon.
Rewards: The opportunity to make a real difference for the protection of Bay Area birds, wildlife and habitat. Being part of a well-established and respected conservation organization, rich with history of volunteerism. Wonderful colleagues.