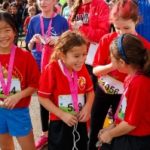 Website Girls on the Run of Bay Area
Mentor a team of girls to complete their first 5K! Inspire a team to be joyful, healthy and confident!
Girls on the Run is still recruiting dedicated and enthusiastic coaches for our Fall 2019 season! Full and part-time volunteers are needed at schools in Marin – days and times vary.
Time Commitment: Practices are twice a week for 75-minutes. GOTR will provide you with the materials and program curriculum, and will train you to be an engaging and effective coach.
Season Start Date: September (start dates vary by site)
Fall 2019 Girls on the Run 5K: Sunday, December 8th in Golden Gate Park
Qualifications: You do not need to be a runner/athlete to be a successful coach. You will serve as a role model for girls by showing up prepared and on time, listening attentively, by having a positive demeanor and outlook, and by leading a healthy lifestyle! You will encourage the girls, explore emotional issues faced by girls of their age range (3rd-5th grade), help them form friendships, and experience the joy of physical activity (don't worry, this will all be covered in coach training!). You also must be at least 16 and attend orientation or training.
About Girls on the Run of the Bay Area: Girls on the Run is an after-school running program to educate and build confidence in girls in the 3rd through 5th grades. Our program combines training for a 5K running event with uplifting workouts that encourage emotional, social, mental and physical development. We are not a typical track program, as our curriculum contains 20 fun, active lessons dealing with issues such as media images, gossiping, physical health, emotional health, cooperation and community. Our 10-week program meets twice per week at a school site and is taught by three volunteer coaches who give their time and passion to a group of 15 girls. At the end of the training, the girls complete their first ever 5K distance. Girls on the Run of the Bay Area is a local chapter of a national organization, and a registered 501(c)3 non profit. For more information visit our website at www.gotrbayarea.org, or contact us at (415) 863-8942.