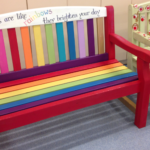 Website Girl Scout Troop 33732
Girl Scout Troop in Alameda County
Help a Girl Scout build a Buddy Bench for her school
The Friendship Bench is a tool for positive mental and emotional health used in various settings.
When a child feels the need for a friend to talk to, he or she can show this by using the friendship bench. Other children and staff will recognize this as a sign that some help, support or comfort is needed and will come to talk with the child.
The friendship bench is a means by which a child can seek support without the need to rationalize their feelings or to seek-out a particular member of staff or special friend. Because the bench is in the day-to-day environment of the school it can be used at any time and for any reason—from seemingly trivial matters to more serious concerns—and encourages children to ask for help when they are troubled.