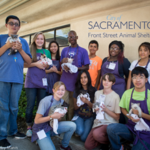 Front Street Animal Shelter
Teen Volunteers Rock! Here at the Front Street Animal Shelter, we value and appreciate our teen volunteers. Teens bring dedication, passion, creativity, and energy to our volunteer program. Some teens volunteer for a short time to complete a school project, and others volunteer year-round. The first step in joining our teen program is to attend an orientation and Shelter Basics class. All volunteers under the age of 16 must have their parent or guardian attend orientation and Shelter Basics and plan to volunteer with them! Parents must also complete a volunteer application and sign up for the orientation.
Teens age 12-15 can volunteer in the following ways:
Volunteer with an adult partner. Adult partner volunteers must also complete a volunteer profile, orientation, and Shelter Basics classes. Adult partner volunteers must be either the parent or guardian of the teen OR approved by the teen's parent or guardian. Teens and their adult partners can do almost everything that any regular member of the volunteer team can do and can sign up for any shift that meets their schedule and qualifications. Some activities are not appropriate for all ages and may have an age restriction.
We do offer a Saturday Teen Program intermittently. If there is space available, teens age 12-15 may attend this program without a parent accompanying them. However, we are not always able to offer this program, and space is limited. If you are volunteering to complete a school project, we cannot guarantee that you will be able to do so with the Saturday Teen Program!
Teens age 16-17 can volunteer in the following ways:
Volunteers age 16-17 may volunteer independently. They do not need adult partners. However, these teens are held to the same expectations of adult volunteers. Please complete your volunteer profile and sign up for an orientation date!
Need to complete your senior project? We welcome our high school seniors! Here is what you will need to do:
Submit an application
Complete your volunteer profile online
Once you have completed your senior project application AND your volunteer profile, please sign up for a Meet with Janice appointment through your volunteer profile in order to schedule a project meeting.
Please note: We are only able to accept senior project applications between September 1st and March 15th. Please get the application process started before March 15th or you will need to complete your project with another organization.