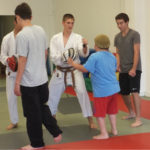 Friendship Circle
Friendship Circle, serves children and young adults with high functioning Special Needs. Martial arts is a powerful tool that can open doors for children with disabilities, including cognitive, social, physical, and neurological impairments.
We are looking for a Martial Arts Specialist who can lead movement activities, and teach basic moves during our monthly programs. Martial Arts sessions run about 30 mins. Must have experience working with children. Background check required.
Assistant volunteer together with Friendship Circle staff, assists to encourage participation. Program runs on monthly Sunday afternoons. Commitment of two programs a year.
Requirement:
Driver's License needed
Background Check
Must be at least 16
2-3 Sunday programs/yr