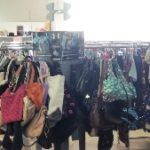 Website Friends of Upland Animal Shelter
We are open Wednesday – Saturday from 10 AM -5 PM and Sunday 11 AM – 4 PM.
We need volunteers at our two thrift shops to help process incoming donations, keep the sales floor clean and neat, assist customers, and help at special sales. And, if you have a particular area of interest, we also need volunteers to specialize in specific areas such as clothing, linens, home goods, electronics, garden, etc. Since our thrift shops help support our shelter operation, you will be helping shelter pets too. Whatever days and times you can work, whether it is once a week or once a month for a few hours, we will gladly welcome your help.
Hours to volunteer vary and are adjusted to each volunteer. High school students can earn volunteer credits for volunteering with us. We usually have student volunteers throughout the year and they earn credit for school.
The needs we have vary day by day and can include janitorial services, help process in our donations department, help put merchandise away or organize and maintain store cleanliness. If students are interested they need to fill out an application online or by bringing it into our store, once we have an application I get in touch with them to go over information about our store and the expectations of our volunteer and to set up a schedule for the volunteer.
We are COVID compliant and masks are required throughout the shift, we take staff and all volunteer's temperatures and fill out a COVID questionnaire before the start of every shift, we require safe social distancing, and gloves are provided for staff and volunteers when needed. Safety is our priority.
IF YOU ARE INTERESTED, please 1) click the "I WANT TO VOLUNTEER" button; 2) complete the application; and 3) return the application to 2nd Chance Thrift Shop at 972 W. 9th Street in Upland on any day that you would like to start volunteering.
This is a great opportunity to support the homeless pet population in Upland.
Donations, purchases, and assistance support the care and adoption of animals at the Upland Animal Shelter who need their second chance.
REQUIREMENTS:
Must be at least 13
Orientation or Training
Minimum two hours
Complete Volunteer Application and BRING TO THE THRIFT SHOP AT 972 W. 9TH STREET, UPLAND, CA 91786
Please wear old clothes and closed-toed shoes.
We could not do this without you! Thank you for your help.