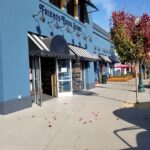 Website Friends of the Pleasant Hill Library
We support the Pleasant Hill Library through fundraising.
Join the Book Store Team!
Do you like to be around books and people who love books? If so, consider being part of the Friends Book Store team as a volunteer cashier. You will be the first to see the new arrivals, work in a fun environment and receive a 20% discount on purchases all while supporting our brand new library.
Cashier duties include ringing up sales and taking payment using our point of sales equipment, answering basic customer queries regarding inventory, special requests, donations and policies. Duties may also include pricing, stickering items, scanning items for inventory changes, receiving donations and loading book carts. The position will involve standing, bending, walking and lifting up to 40lbs. All volunteers must be fully vaccinated. (Ages 15 and up.)