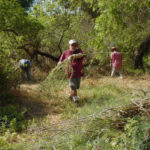 Website FRIENDS OF GARDENA WILLOWS WETLAND PRESERVE
The Preserve is a unique 13.6 acre federally-protected natural resource in the middle of the city. It is a "hidden" treasurer you won't want to miss. Come to have fun, learn, and be rewarded by seeing your accomplishments before you leave. Many different tasks including trail clearing, removal of invasive species, trash/debris removal and cleaning between boards of bridges and overlook, just to name a few! We will provide gloves, tools and bottled water.
We gladly sign-off for community service hours, if requested.
All volunteers are required to have a Volunteer Application on file. If this is your first time coming to a work day,
please bring with you a completed Volunteer Application. The Application can be found on the Friends website: www.gardenawillows.org .
BECAUSE OF COVID19 WE ARE UNSURE WHEN THE PRESERVE WILL BE GIVEN THE OK TO OPEN BY THE CITY OF GARDENA.