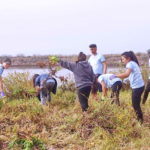 Website Friends of Five Creeks
24-year-old all-volunteer nonprofit
With beach wildflowers in bloom and shorebirds returning, join us  as we celebrate National Estuaries Week at Berkeley's "Brickyard" beach, removing invasives and trash to get ready for the opening of this fenced portion of McLaughlin Eastshore State Park.
We supply gloves, snacks, tools, and good company. We recommend long pants, long sleeves, and closed-toed shoes with good traction. Bring sun protection and a re-usable water bottle. Groups of five or more please RSVP to f5creeks@gmail.com. Otherwise, just show up!
Meet at the south end of Sea Breeze Deli parking lot, 598 University, just west of I-80. Map here. Easy by AC Transit 51B,  the Bay Trail, or the pedestrian-bicycle bridge over the freeway. . We enter as a group — please be on time! Questions? Please email f5creeks@gmail.com.