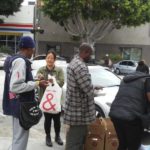 Website Footprints Around the World, Inc
Footprints will drive to designated areas in the community in South Los Angeles, to distribute "Footprints Hot Lunch" and "Bags of Love" to the homeless and low income community.  You must have your own transportation!
Mission or Broader Program Description: Our Food for the Soul event is to help feed people that are in need. We serve the homeless a hot home cooked meal, because we believe that everyone deserve to feel like someone cares, and despite homelessness you can still feel like "There is no place like home."
Impact:
You can experience hands-on, of how there is a desperate need in our communities for food for the homeless.
You will see that the people are truly in a desolate state of mind and are in need of care and concern.
You will also have the opportunity to give back to those that are in need.
Volunteer Roles and Responsibilities: Help hand out lunches to the homeless community in South L.A. and Downtown L.A. areas. You must have your own transportation, volunteers will meet at Footprints headquarters. If you want to give back to the community, this will be a great opportunity!
Requirements: Please bring photo ID. Wear comfortable attire; jeans and sneakers are OK. You must have your own transportation for all event dates. If you are under 18 yrs old, you must be accompanied by an adult.
* Volunteers under the age of 18 will need to bring and have signed by a parent/guardian a Volunteer Agreement & Release for Minors. The form can be found on L.A. Works website Q&A section.
All volunteers participating in this volunteer opportunity should adhere to the health and safety guidelines outlined here: https://www.laworks.com/health-and-safety