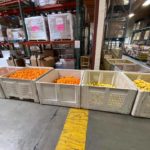 Website Food Share Inc
Help to box up healthy produce getting it ready for distribution!
Attire: Closed toed shoes, layered casual clothing, and name badge.
Parking Information:
Carpooling greatly encouraged! Free public parking. Please do not park in front of Channel Islands Roofing or Prestige Auto Body. These parking spots need to remain open for their business clients and guests. Park in any open spaces directly in front of Food Share or on the sides of the 4156 Food Share building. You can drive across Lambert and park on the South side of Southbank Road or park on Lambert and walk to the Food Share building.
When you all arrive: Enter into Food Share's 4156 lobby. The 4156 lobby is on your right as you turn onto Southbank Road. Look for the orange awning. Once in the lobby ask for Christina Forino, Director of Volunteer Services. Check in that you arrived for the activity on your mobile device or on the provided computer. The location service must be on in order to sign in via the mobile device. There is also a link in the confirmation email or a text allowing sign up via the mobile phone. The confirmation email goes out two days prior and then if they check the text box next to their cell phone # in their profile they will receive a text reminder one day prior to event date.
For details about this opportunity, visit cerv.is.