Anywhere
September 30, 2020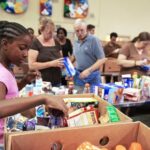 Food Share, Inc.
Help us run a drive thru pop-up food pantry at Ventura Fairgrounds. We need help with gathering names, manning entrance, manning exit, placing box of food into trunk of car, and with traffic control at this site.
These distributions will take place rain or shine.
Parking: please park as close to the Derby Club inside the fairground parking lot as possible. Also, there maybe a line of cars when you arrive, please try and drive around them and tell the person in the front that you are a volunteer.
Attire: weather can change at any moment. Please wear layers. Pants and long sleeves are recommended, closed toed shoes are required.
Disposable gloves and mask will be provided if needed.
This is a labor intensive volunteer shift. You need to either be able to lift a 20lb box of food or stand on your feet for long periods of time.
Must be at least 14
Starts on August 24, 2020