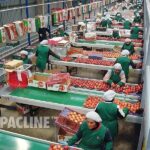 Food Share, Inc.
Help to box up healthy produce getting it ready for distribution!
Attire: Closed toed shoes, layered casual clothing, and name badge.
Parking Information:
Carpooling greatly encouraged! Free public parking. Please do not park in front of Channel Islands Roofing or Prestige Auto Body. These parking spots need to remain open for their business clients and guests. Park in any open spaces directly in front of Food Share or on the sides of the 4156 Food Share building. You can drive across Lambert and park on the South side of Southbank Road or park on Lambert and walk to the Food Share building.