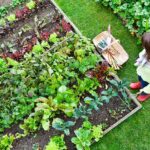 Food Share, Inc.
Food Share partners with the Area Agency on Aging Program Gardener, Bob, to help find volunteers to assist him with their 100% organic garden. Harvested produce goes onto our Food Share trucks and gets delivered to the congregate meal sites for the county's low-income seniors. Depending on time of volunteering the garden tasks include (but not limited too) hand weeding, weeding with garden tools, harvesting vegetables, planting, installing irrigation, and helping with other garden projects.
Requirements:
Able to do physical labor in changing outdoor weather conditions
Should enjoy working out of doors.
Minimum age is 12
Appropriate suggested attire:
Casual layer clothing such as long pants, long sleeved shirt, sweatshirt, and sturdy clothing. You can wear shorts if you prefer.
Garden gloves (or you can use the ones here)
Hat with visor or wide-brimmed hat strongly encouraged, and sunscreen.
A refillable water bottle (or we have plastic bottled water available). Please keep hydrated. Even though you think you are not thirsty, you are!
Scheduling:
M-Friday 8am-Noon (There are exceptions like closed the 4th Wed of each month) Always look at the posted dates so you know when you can sign-up.
Stay the whole for hours or anytime in-between.
Closed on Holidays.
Closed during heavy rains
For details about this opportunity, visit cerv.is.