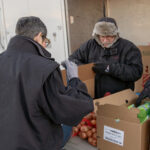 Food Share, Inc.
This program works to improve the health of qualifying low-income elderly persons 60 years of age and older. A box of high-quality food items will be packed at Food Share's warehouse and distributed to 3,500 seniors a month.
Number of volunteers vary from site to site.
Minimum age requirement is 12 years of age or older.
3 hour shift
Attire: Closed toed shoes, layered casual clothing. Anyone wearing flip flops or other inappropriate shoes will not be able to participate.
All participants must be able to walk, bend and lift boxes of product weighing up to 35 lbs. without assistance.
Help seniors load 30-pound box into senior car or cart.