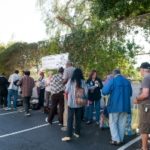 Website Food on Foot
Update 10/8/20: We are currently not offering any volunteer opportunities due to the social distancing guidelines.
Food on Foot needs volunteers to help serve food every Sunday (52 weeks a year) at 3:15pm in Hollywood to over 200 homeless and poor clients. Advance registration is necessary on our website at http://www.foodonfoot.org/volunteer/ as a $25 donation by credit card is required.