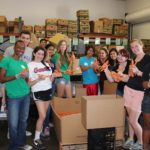 Website Food Bank of Contra Costa and Solano
Warehouse volunteers sort and box food donations and box or bag fresh produce. Working as a team volunteers check food for quality, sort by category, and box or bag for distribution in our warehouse sorting areas. This position does require standing and some volunteers may need to lift filled boxes up to 35 pounds.
We're doing the best that we can to accommodate social distancing where possible. Please be flexible with our staff as they adjust to developing situations.
All volunteers must be scheduled.
Warehouse shifts in Concord are limited to 15 people. Scheduling is first-come, first served.
Groups may schedule as a team or the leader can schedule themself, then contact the Volunteer Help Desk to have additional people added as "guests" depending on available openings.
When scheduling a team, it is strongly recommended you contact the Help Desk to confirm all members of your team have been successfully scheduled.
Closed-toe shoes are mandatory (tennis shoes are fine).
The warehouse temperature can vary so volunteers should dress accordingly; we recommend volunteers dress in layers.
Individuals needing court-ordered community service MUST contact the Volunteer Help Desk prior to signing up for any warehouse opportunities
Age Minimum (with Adult): 11+, Minimum Age:16+