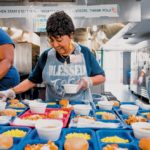 Father Joe's Villages
Assist staff in efficiently tracking and handing all items coming in, stored in, and going out of the warehouses.
Tasks:
Weighing food and distribute food
Intake forms
Pack diapers and fill orders
Set up food distribution setup, tent and chairs for drive by distribution
Distribute food to drive by customers
Maintain cleanliness standards of the warehouse.
Other tasks as requested by warehouse staff.
Must be at least 16
Good for individuals or groups