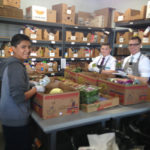 Website Fallbrook Food Pantry
Over 15,000 hours are donated annually by our wonderful and dedicated volunteers, and we thank all 625 of you.  YOU are instrumental in carrying forth our mission of aiding those in the community in-need of food.  We could not do this without you!
If this is your first time volunteering with us, please create a new account for yourself through VolunteerHub. Once you have done this, please go to the online calendar to choose a date and time you are interested in working.  Make sure to also sign up for your "first time volunteer" orientation.
Requirements:
Minimum age to volunteer is 10 years old. Volunteers between the ages of 10-16 years of age, special arrangements must be made for volunteer opportunities outside our regularly scheduled distribution hours. Groups of children must have one adult present for every 10 children. All minors 16 years and under must be accompanied by an adult.
Must attend orientation