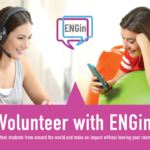 Website ENGin
ENGin is looking for volunteers aged 14-22 to serve as speaking buddies for international students. This is a super-flexible and unique opportunity to make a difference without leaving your room. Plus, you'll get to know peers across the world!
Here's how it works: we'll pair you up with a Ukrainian student to video chat each week at times that are convenient for you. We match students and volunteers based on age, interests, and schedules. All of our students have a basic knowledge of English, and we also provide resources, activities, and ideas for you to use. Your speaking sessions can be 30-60 minutes long.
To join our team, please fill out the short form linked on this posting. Then, we'll email you to schedule a 15-20 minute video call to get to know you better and answer any questions.
You can learn more about ENGin at www.enginprogram.org. If you have any questions before signing up, please contact us at info@enginprogram.org.
For details about this opportunity, visit forms.gle.