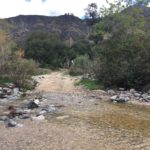 Website Eaton Canyon Nature Center Associates (ECNCA)
The Conservation Group provides monthly and by appointment volunteer opportunities within Eaton Canyon Natural Area Park. Our efforts include weed abatement, planting and caring for native trees and shrubs, and maintenance of park trails.
REQUIREMENTS
Must be at least 16
3 hours/month
Completion of all requirements for a Los Angeles County volunteer. Advance signup is required.