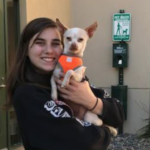 Website East Bay SPCA
Students will be completing a variety of tasks to assist East Bay SPCA programs and the animals in our care. They may make dog treats, prepare for upcoming East Bay SPCA programs or events, assist with shelter clean-up, or provide attention for the animals in our care.
OTHER INFO: Our Youth Volunteer Club does have a small fee to participate. This fee helps to cover the cost of staff supervision during the program and allows participants to volunteer immediately & short term without having to go through extensive training on safety instruction and shelter protocol.
Please note that this is a volunteer program–while all volunteer tasks will be centered around helping the shelter and the animals in our care, participants should not expect to spend the full session with the shelter animals. In order to make sure our animal-loving participants still get the dog and cat time we know they love, we will plan to include a minimum of one hands-on animal meet-and greet per day.