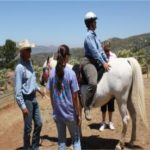 Dream Rider Equestrian Therapy
The only requirements are the ability to fulfill a commitment, to be physically able to walk for one hour, and your willingness to learn how to assist special needs and young children on horseback. All you need to know will be included in the training.
A signed liability release is required to participate, which can be downloaded from http://www.dreamriderequestriantherapy.com.
If you are allergic to horses ,you should probably not apply ,or if you suffer from anxiety attacks ,this work requires a mature acceptance of the responsibility to help keep yourself, the pony, and the children focused and calm. That will depend on your own self-control. This work cannot be done without the help of volunteers. Your time will be much appreciated.
Requirements:
Must be at least 15
Minimum 2 hours per week
Orientation or Training
For more information, call Catherine Hand : 619-445-2576