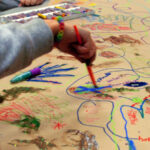 Website DrawBridge
At DrawBridge we support the children we serve with caring, creative, and committed facilitators and volunteers. Working with an extremely stressed population can be challenging, both emotionally and intellectually. We offer training and support to all of our volunteers and facilitators, allowing them to explore the issues that arise as a result of working with children who are underserved or experiencing homelessness. Our art group volunteers work right alongside the group facilitators, giving children extra individual attention, and helping to create a safe, playful, and nurturing place for them to express themselves.
About the Program
Generally, we ask that you be at least 18 years old and willing to commit to 6 months of service. It is helpful if you have some experience working with children. Volunteers are matched to art groups depending on schedule, location and the needs of our groups. Most of our weekly groups occur for 2 hours on weekday evenings. To learn more about our art groups, please visit Our Art Programs. We do have teen volunteers, who must have written parental permission: see PDF form on the website.
Volunteer Training
If you are interested in joining our program, the first step is to complete our Volunteer Application, then go through our Online Volunteer Training and fill out the questionnaire at the end of the training. You can either mail both to our PO Box or email them to sarah@drawbridge.org. The link for both is on our website.