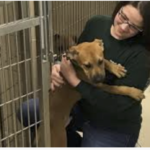 Website Sonoma County Human Resources
Canine Kennel Assistant volunteers provide hands-on care to the animals, ensuring that the shelter living environment remains safe, clean and as comfortable as possible.
Canine Kennel Assistants aid the shelter staff with daily cleaning chores and keeping the adoptable dogs and puppies socialized. They also provide preliminary adoption counseling for clients.