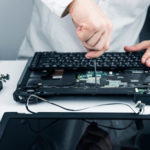 Website Computers 2 Kids
Computers 2 Kids needs help refurbishing their donated computers so they can be given to students now learning through online classes. Volunteers will refurbish Lenovo Yoga Laptops and Desktop Computers under the supervision of the IT Staff by cleaning them, completing hardware testing, and activating them for distribution. Volunteers will also be testing and cleaning peripherals (LCD Monitors, Power Adapters, Mice & Keyboards).
Must be at least 16 years old.
Important Notes Experience: Computer experience is helpful, but not necessary. They will teach you everything you need to know.
Attire: Wear closed-toe shoes and casual clothes
Physical Requirements: Able to lift 20 lbs.