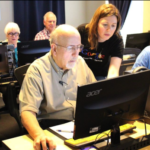 Website Community Tech Network
Become a computer tutor at the San Francisco Senior Center (Downtown) with Community Tech Network. During a two-hour shift, you will work with older adults and adults with disabilities, answering their questions about computers and smart phones.
CTN will train you on how to tutor older adults and answer common questions about technology and digital literacy. It is an amazing way to give back to the community and everyone is always so grateful to have a tutor to whom they can ask questions. There are no language requirements for this location but the ability to speak Cantonese or Mandarin is a plus.
If you are interested, please complete the online application (below). The application takes about 3 minutes to complete. A CTN representative will get in touch to set up a training time and then get you started.