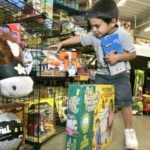 Website Community Resource Center
Community Resource Center is in need of volunteers to serve regularly at our San Marcos Resale Store. The store accepts volunteers Monday through Saturday. The opportunity involves receiving donations, assisting customers, sorting donation items, creating visually appealing merchandise displays and most important, having fun working with great people and helping Community Resource Center to generate revenue to help low-income families and victims of domestic violence. This is great opportunity for teens, adults, and seniors alike.
We will fully train you and the only special skill required is someone who is friendly that enjoys working with the public.
Requirements:
Must be at least 14
Orientation or training
4-6 months preferred