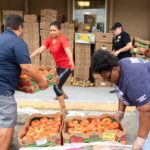 Website Community HousingWorks
We are currently seeking volunteers to help us sort, set-up, distribute,and monitor free food distributions in our community using safe food handling best practices. These crucial roles in Community HousingWorks are compliant with COVID-19 social distancing measures: less than 5 volunteers gather at the site at a time and maintain 6+ feed distance apart from other volunteers. Gloves, hand sanitizer, and cleaning supplies provided. Please bring personal face covering.
The volunteer must be able to lift up to 30lbs.
Requirements:
Complete Volunteer Application on website:
background check for only 18+
Read Volunteer Handbook and take Quizand learn about the roles and responsibilities of our volunteers. When finished, follow the link to take our 10 question quiz.
Attend Virtual Orientation.