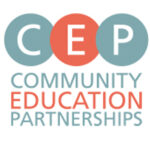 Website Community Education Partnerships
Tutor an unhoused student in your community!
Community Education Partnerships (CEP) believes in providing quality education to students in the Bay Area who are unhoused and to those facing housing instability. As a consistent presence in the life of a homeless youth, you can help build up that child's confidence and instill a joy for reading and math that will help set them up for academic success.
In an effort to keep our students and volunteers safe, CEP is providing virtual tutoring at this time. All California residents are welcome to apply, however, CEP will prioritize volunteers who are local to the Bay Area, willing to transition to in-person tutoring when deemed safe, and able to commit to volunteering at least six months.
As a virtual volunteer tutor with CEP you will:
Work virtually with a student for at least one hour per week
Provide homework support and academic skill building
Read aloud and be read to in return
Play literacy and math games
Have fun!
No teaching experience required and anyone over the age of 16 can volunteer. Session times are flexible and all of the necessary training is provided. Students range from 2nd grade through high school and are matched with tutors based on age and grade preferences. Tutors under the age of 18 must have a parent or guardian co-tutoring with them.