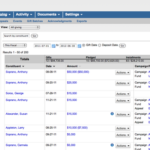 Website Community Animal Network
There is nothing so important than letting someone know that their money was appreciated and especially since COVID-19 affected donations!
Donors will be thanked and encouraged to donate again and the donor information and donation amount recorded in the donor management software called, Little Green Light. LGL is very easy to use and would look good on a resume.
We request that the volunteer commit to at least one day a week for agreed hours and a minimum of 16 weeks. There are felines on the premises, so please no one with allergies.
Proper COVID-19 precautions is to be wearing a mask while helping. Afternoon or evening help is needed.
You must have a driver's license
Must be at least 16 years old