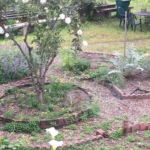 Website Cohen-Bray House/Victorian Preservation House of Oakland
Our 133 year old garden is now being turned into a teaching garden for local schools in our Fruitvale neighborhood. We are creating permaculture beds that will last for years.
It is a lovely 1/2 acre garden in the middle of the city. A lovely place to hang out, get dirt under your fingernails and meet people while you help create our garden
We are creating new beds, planting old ones, weeding, planting fruit trees, working on irrigation.
Come with your family, service group, friends or by yourself !
We work the 1st Saturday and 4th Sunday of every month from 10-2 We provide snacks and drinks. Let us know you are coming !