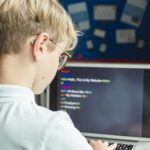 Website Code for Fun
Code For Fun offers great coding programs, robotic and technology classes through after school and camps that teach kids and teens coding languages like Python, Scratch, Swift and others, while using incredible hardware from Arduino, BeeBots, Lego WeDo, Sphero, and Parrot Drones. Computer programming, computer science and STEM programs are important concepts for today's world, so why not enroll you kids today, while they are having fun creating games, developing mobile apps, designing web pages, and so much more!
You do not need to have a strong technical background to help Code for fun in its mission. We're looking for a variety of people who want to donate their skills and join in the development of this exciting organization.
Volunteering is easy – simply complete an application form. We will then discuss further and find the best way for you to engage in our projects.