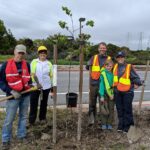 Website CityTrees
CityTrees is a volunteer group that promotes and supports urban forestry efforts in the greater Redwood City area, including pockets of nearby unincorporated County. Over the years, CityTrees has developed partnerships with the City of Redwood City, local schools, local businesses and corporations and other non-profit organizations. As our Board of Directors is made up entirely of volunteers who keep full-time jobs during the regular work week, we complete most of our plantings on Saturday mornings once a month between September and May. During the summer, we invite those who are trained in our pruning methods to join us for monthly Prune & Pub events on Thursday evenings.
We depend on our community volunteers to complete these efforts successfully. Thank you for your interest in helping to grow our urban canopy.
To participate in a CityTrees event, please print and sign our Volunteer Release and Waiver of Liability Form, and bring it with you to the event. We will have extras available to sign on the day, but if you are under 18, you will not be able to participate without your parent or guardian's signature.