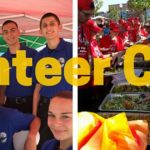 Website City of Chino
The City of Chino has partnered up with a local organization for food distribution very Wednesday. Every week we pack, and distribute food to over 700 members of the community. Any help is greatly appreciated.
Volunteers are needed in two shifts, 9:00 a.m.-2:00 p.m. and from 3:00 a.m.-2:00 p.m.For more information call 909.334.3258. and ask to speak to Nick or email us at volunteers@cityofchino.org.
REQUIREMENTS
Must be at least 15
Orientation or Training
All prospective volunteers will need to be screened, and cannot fall under the high risk category per CDC Guidelines.