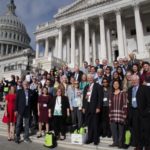 Website Citizens' Climate Lobby
Citizens' Climate Lobby (CCL) is a strictly nonpartisan organization that empowers volunteers to engage their members of Congress to advocate for our market-based climate solution. You will work with fellow concerned California citizens to address climate change risk, thereby securing our families, livelihoods and ecosystems. Please respond to our posting for an invitation to learn more.
CCL supports volunteers to:
Meet with Congressional leaders
Write letters to the editor and op-eds
Meet with local media
Build support among constituents and community leaders for our legislative proposal
We provide:
Monthly national conference calls with expert guest speakers
Weekly skill building sessions
Online network with CCL volunteers across the U.S.
June national conference and lobby week in D.C. – scholarships available!
Volunteers commit to an average of 4-6 hours a month. Some of our volunteers dedicate more time than that. We hold no upper limit on your dedication to a stable climate and livable world!
Want to know more? Please join our weekly Introductory Conference Call. The next one is on Wednesday at 5:00 p.m. Pacific/6:00 p.m. Mountain/7:00 p.m. Central/8:00 p.m. Eastern. It is a live call, about an hour long, and there will be opportunities to ask questions.
We look forward to working with you!