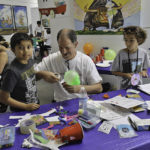 Website Chuck Jones Center for Creativity
Many times, we want to give our time to a worthy organization but don't know where to start; who to talk to, or necessarily what we want to help with. We have prepared a quick description of areas in which we need your help. So, please take the time to read through the following information about volunteering at The Chuck Jones Center for Creativity. We hope to include you as one of the members of our volunteer family!
Are you currently an art student either attending high school or college? We have a Student Volunteer Program to help you achieve you volunteer goals! Contact Cyndi Burgess at Cyndi@ChuckJonesCenter.org to learn more about the volunteer program and what we as a Center want to accomplish both for the Center and for a student such as yourself.