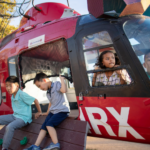 Website Children's Museum of Sonoma County
Current Volunteering Opportunities (check our website for updates on opportunities)
Opportunity Type: Museum Docent
Date(s): Any Mon, Wed, Thurs, Fri, Sat, Sun
Time Frame: Morning shift: 10am-1pm OR Afternoon shift: 1pm-4pm OR a time frame mutually agreed upon
Job Description: The primary duties of this role include interacting with guests on the Museum floor, enforcing rules and policies, answering basic questions posed by guests, explaining the science behind exhibits, assisting guests in the art studio, assisting Playologists with programming when needed, and helping to ensure that guests are enjoying their visit to the Museum.
**Volunteers must be at least 15 years of age or older to volunteer at the Children's Museum. Unfortunately, at this time, we are currently unable to enroll volunteers who are younger than 15 years of age.
**Volunteers who will be working with children are subject to a background check at Museum's expense.