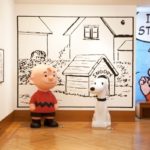 Website Charles M. Schulz Museum
Have fun working for PEANUTS! Everyone aged 14 and up can find opportunities to volunteer!
Volunteering is a wonderful philanthropic gift! The donation of your time to enhance the mission of the Schulz Museum is immeasurable. The Museum is a beautiful, fun place to volunteer as part of a dedicated team. If you love Peanuts and want to help share the legacy of Charles M. Schulz with visitors from near and far, this is the place for you. Check out the many different ways you can help!
Volunteer Opportunities
Weekend Gallery Guides
Docent Tour Guides
Education Room Facilitators
Gallery Monitors
Public Greeters
Special Events Support & Service
Administrative Support
The Schulz Museum is always looking for friendly, Peanuts fans, to join our Volunteer ranks.  Summer is typically our busiest season. If you are 14 years and older apply to help us with an array of opportunities and programs or
become a Museum Visitor Services Volunteer to work throughout the year sharing and interpreting exhibits and displays. The universal appeal of Peanuts is remarkably uplifting!
Weekend shifts are 10:00 am – 1:30 pm or 1:30 pm – 5:00 pm on Saturdays, Sundays, and the occasional Holiday Monday!
Weekday shifts are also available: 11:00 am-2:00 pm or 2:00 pm-5:00 pm