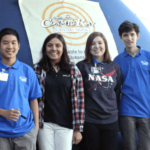 Website Chabot Space & Science Center
The Galaxy Explorer program provides high school students with an opportunity for hands-on, fun community service work while giving them a chance to develop their job skills, increase their STEM knowledge, and enhance public speaking.
The program is a year round commitment and Galaxy Explorers are required to participate in a minimum of 8 hours of enrichment per month.
OPPORTUNITIES FOR GALAXY EXPLORERS TO MEET THEIR REQUIRED ENRICHMENT HOURS:
SCIENCE ENRICHMENT
Explorers further their knowledge by participating in many exciting opportunities including field trips to tech companies, research institutions, state and national parks and other museums.  Chabot also hosts a monthly enrichment lecture series for our volunteers that features renowned scientists discussing their research and field of work.
MUSEUM EXPLAINER
Explainers are the most visible volunteer roles, engaging with visitors at Chabot; staffing exhibits and science activity stations. This is component is known as "floor hours." All Galaxy Explorers are required to work at least one floor shift per month.
COMMUNITY OUTREACH
Galaxy Explorers assist with outreach science education for younger children, peers, and families at schools, libraries, fairs, and community centers. Students can be trained to operate the Cosmic Ray Planetary Theatre. Teens interested in public speaking can complete our training program and perform their own travelling planetarium shows.
UNLOCKING POTENTIAL WORKSHOPS
These monthly workshops are geared toward skill-building, leadership development, and college planning. Topics covered include public speaking, job interviewing, career planning, resume development, personal budgeting, careers in STEM, and more.
SPECIAL INTEREST TEAMS
These special interest clubs allow Explorers to delve deeper into a specific area of science. Each team works throughout the school year on long term projects that will eventually benefit the Center and its visitors. Team membership lasts one school semester at a time, and most teams do not meet during the summer months. Examples of teams include Astronomy, Environmental Sciences, and Engineering. Upon joining a team, regular attendance is required.
There is an enrollment period for this program. Please check our website to verify that applications are open.