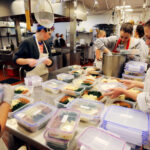 Website Ceres Community Project
Contact us for more information about volunteering!
Youth Volunteers must:
* Be at least in 8th grade and 14 years of age or older
* Be able to commit at least 2.5-3 hours/week for three months
* Shifts are in the afternoon, and we work with your schedule.
Volunteering at Ceres gives you the opportunity to:
* Become skilled at cooking a wide range of delicious and healthy food
* Make a life-changing difference for people in a health crisis
* Expand your circle of friends
* Develop new talents and gain self-confidence
* Gain real-life job skills
* Work your way to becoming a Youth Leader and gain skills in leadership, peer teaching, public speaking and more
* Collect community service credits
* Learn to garden (in Santa Rosa or Sebastopol)
* Discover how your food choices influence your own health, and that of the planet.