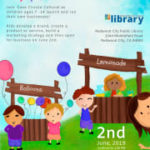 Website Casa Circulo Cultural
Casa Circulo Cultural is having it's second annual Redwood City Children's Business Fair on Sunday, June 2, 2019 from 11:00am-2:30pm outside of the Redwood City Public Library. We need a few High School volunteers to help a few children entrepreneurs (ages 4-7) with their businesses. They will most likely be helping the young kids count money and give correct change to their customers. The volunteer hours are from 10:00am-2:30pm. We can write them a letter confirming their hours as well.
You may visit our website for more information on our organization and the business fair at: www.casacirculocultural. org or https://www. childrensbusinessfair.org/ redwood-segovia Please let us know if you have any questions.
REQUIREMENTS
– Must be at least 15
– 4.5 hours