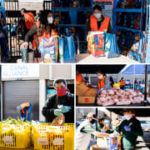 Website Canal Alliance
Program Dates
Tuesday mornings from 8:00 am to 11:00 am
Volunteers must be able to commit for a minimum of one month (4 weeks).
Responsibilities could include:
Set up and breakdown the Food Pantry.
Provide support in unloading food from trucks and stocking shelves.
Oversee safety in the walk-through system.
Adhere to the safety procedures and protocols (training will be provided on-site).
Skills and requirements:
Spanish proficiency not required.
Must be able and lift 20-30lbs, job entails repetitive movements and bending.
Must be able to stand and/or walk for up to 4 hours.
Cultural competence in working with diverse populations, including communities of color, immigrants and persons of various ages, socioeconomic backgrounds, health status, and abilities.
Volunteers of all ages are welcome. Youth under the age of 16 must be accompanied by an adult 21 years or older. Minimum age to volunteer with adult is 14.
COVID-19 Volunteer Guidelines:
We ask that you please  do not  attempt to volunteer if you have:Experienced symptoms that could be related to COVID-19 in the last 14 days.
Been around anyone who has COVID-19 in the last 14 days.
Traveled to any foreign country in the last 14 days.
Been on a cruise or been in an airport in the last 14 days.