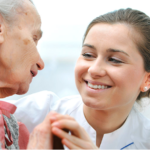 Website Calstro Hospice
With Calstro Hospice, our volunteer program gives you options of how you would like to be a part of the growing senior community. Patients on hospice are considered terminally ill. We do not only serve hospice patients, but the elder community as a whole. We do this by educating them about services that are available to them in their community that would be beneficial to him or her as an individual: such as home health, physical therapy, private caregiving, referral to specialties, and medication management.
As a Volunteer, you can:
Option 1: act as a companion to our hospice patients in a 1 on 1 setting in their homes. Companionship means that you would be spending time with 1 patient doing things such as playing board games, listening to music, reading, writing letters, talking, or watching a movie. A small gesture such as holding a patient's hand could brighten up their day.
Option 2: volunteer in the office. Our trained professionals will expose and teach you the regulations and operations needed to provide the best care possible. You would be helping with filing, printing, copying, entering data using our hospice software, and providing customer service skills over the phone. Also, you will be exposed to nursing, medicine, social work, and spiritual counseling. If you are interested in learning the ins and outs of a successful hospice, our staff will be more than happy to teach you.
Option 3: we currently work alongside a number of senior living communities. These communities are homes for many of our patients. Our volunteer coordinator arranges different activities and events for the people living in these communities: such as musical and dance events. As a volunteer, you can assist arranging and participate in these events.
Option 4: We have a new program, called pathways, in which we assist and help patients that are not eligible for hospice, with referrals to resources that they may need. In addition, a nurse and a social worker visits the patient, free of charge, to assist them with their medical needs and as needed resources. As a volunteer, you can help us manage these patients in assisting with companionship, locating as needed resources, doing follow up phone calls, and/or locating donated equipment they may need.