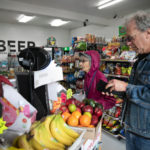 California Volunteers
Food banks across the state need your help to support Californians who are experiencing food insecurity. Join Operation Feed California by pledging to volunteer at your local food bank. Volunteering may include food donation sorting and bagging, no-contact food distribution, administrative tasks, and other crucial support.
You'll hear directly from your local food bank with the details for volunteering in your community.
Don't forget to post your stories on social media using the hashtag #CaliforniansforAll.