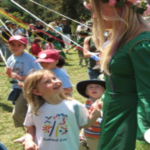 Website California Revels
Volunteer with California Revels!
Help with the many activities we present throughout the year, work backstage on the show, or even join the chorus!
The Revels are at work year 'round, spreading joy and celebration. Bringing more people into the community is at the core of what we do. We hope that you will offer your assistance in any ways that interest you.
Some of the ongoing opportunities for which California Revels seeks volunteers include:
keeping information up-to-date in our office;
finding new opportunities and partnerships for the Revels;
organizing and tracking props and other materials;
working with our designers to sew costumes;
acting as a Revels Ambassador by staffing booths at local street fairs and festivals;
auditioning to be part of the chorus. Auditions take place in the late summer and rehearsals usually begin in October. Find out more about auditions.