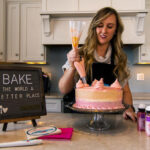 Website Cake4Kids
Cake4Kids is powered by an amazing and compassionate group of volunteers who are mostly home-bakers. We have no minimum commitment — volunteers choose how often and which cakes they want to bake. They bake the cake at home and deliver it to one of our partner agencies who support the youth. Our volunteers never meet the children we support, but every cake is custom-made for each child and an enormous amount of love is baked into each one.
If you like to bake and decorate cakes, you would love to volunteer with Cake4Kids. We don't require any time commitment — bake 1 cake or 10 cakes a year…it's up to you. You choose which child's request to sign up for, based on the theme, type of dessert, and delivery time and location. Then bake and decorate in your own kitchen and when the sweets are complete, you deliver them to the local social services agency that requested them.
Note: All deliveries are Monday-Friday during business hours
Requirements:
Volunteers must be at least 16 years old.
Volunteers between the ages of 16 and 18 must sign up as a Parent-Teen team with a parent or guardian.
Cake4Kids requires and will ask to see proof of age at orientation.