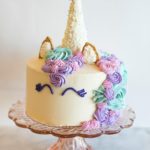 Website Cake4Kids
At Cake4Kids we bake and deliver birthday cakes, cupcakes, cookies, bars and brownies to foster children and at risk youth — and all of the baking and decorating is done by you, the volunteers! We aim to raise their self-esteem with this seemingly simple gift on their special day. We support all sorts of agencies in our community – homeless, human trafficking, domestic violence, transitional housing and foster care.
If you like to bake and decorate cakes, cupcakes, or cookies, you will love you to volunteer with Cake4Kids. We don't require any time commitment – bake 1 cake or 10 cakes a year…it's up to you. You choose which child's request to sign up for, based on the theme, type of dessert and delivery time and location. When the sweets are complete, you delivery them to the local social services agency that requested them. We even have delivery locations in Gilroy!
Note: All deliveries are Monday-Friday during business hours
It's fun and rewarding and truly the "sweetest" volunteer opportunity you can participate in. After all – who doesn't love birthday cake?